1960bet is one of the pioneer betting firms in the Nigerian betting industry created with the sole aim of offering quality betting services to Nigerian residents.
Unsurprisingly, they have not diverted from this mission right from the moment when Nigerian punters had few betting firms to choose from till this present moment when the betting industry is almost becoming saturated with a plethora of alternatives.
Despite the fact that there are more betting firms to choose from in the present day Nigerian Betting Industry, 1960Bet continues to amass plenty followers due to its ability to always give punters the best betting options and odds.
They host all the major sports (with an emphasis on football due to its popularity among Nigerians) games, casino games, Virtual games, Live-Betting options, Lottery and Jackpot games just to increase betting options for punters..
Like all the other certified Nigerian betting websites, 1960bet operates under the license and regulation of the Lagos State Lottery Board (LSLB) to offer its services to Nigerian residents.
Desktop & Mobile Betting
1960Bet has one of the most attractive betting websites in terms of display, efficiency and website navigation.
Regardless of how diverse or unique you want your bet slip to appear, all the betting options can be selected right from the website's homepage. You will sight your bet slip on the right side of the website the moment you start games selection.
Aside from its simplicity, it also comes with a statistics centre which displays vital information that could improve your winning chances. For instance, you can know a team's present form by viewing their recent result and the log table provided.
Regardless of the operating system available on your device (a smartphone with any of the popular OS or a desktop computer with Mac OS, Windows or Linux), you can be assured of a hassle-free betting experience since the website is highly responsive.
1960Bet is also willing to refund 100% of your stake money if you lose your first bet
Features & advantages
Being one of the pioneers of online betting in Nigeria does not automatically guarantee 1960Bet the top spot position. They were able to maintain top spot by continuously providing a quality user experience for punters since they also understand that punters have no loyalty for they will only patronize the betting firm that offers them the best betting experience.
One of the areas where they have done considerably better than their competitors is in the issuance of competitive odds to punters. Almost all the time, they offer slightly higher odds than that of their counterpart and in some cases they go beyond that of their European counterparts.
It is almost a norm for all betting firms in Nigeria not to offer signup bonus to prospective punters. The exception to that norm is 1960Bet which offers 100% bonus to punters up to a maximum of ₦50,000.00 for the first deposit.
1960Bet is also willing to refund 100% of your stake money if you lose your first bet. While you shouldn't hope to lose, in the event that it happens, you can be assured of complete refund.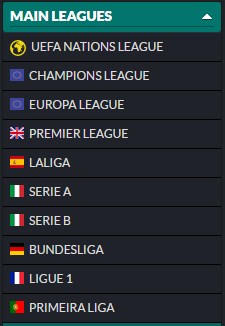 Reliability
Countless times, 1960Bet has passed several reliability tests from punters by consistently delivering quality services.
More importantly, being a licensed operator under the Lagos State Lottery Board implies that 1960Bet will be subjected to routine compliant checks on a regular basis. Not once, during this check have they been found guilty of any foul practice. This in itself is another reason to be assured that 1960Bet is genuinely interested in providing quality betting services without compromising or cutting corners.
Betting options, in-play, live streaming
1960bet betting website was created to be a one-stop shop for all gambling activities that interest Nigerians and Africans. As a result, you will only find games that are regularly and rarely played by Nigerians on their website. Some of the major categories of games hosted will be highlighted below:
It is a usual practice in the betting industry for bookmakers to show sentiment towards on-demand games. 1960bet did not act against this norm as most of the activities primarily displayed on
their homepage are football related bets.
This does not deter them from offering other sports activities in abundance. By the left side of 1960 homepage, you will find up to 16 different categories of sports ranging from the popular ones like basketball, cricket, rugby, Tennis, NFL to the less demanding ones like bowls and snooker.
At 1960bet betting website, you are not deprived of the opportunity to place your stake on a particular game simply because the game has commenced. Up to the final moment of the said game, you are eligible to place stakes on them.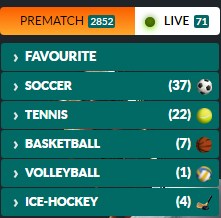 In a world where everyone is showing interests in virtual games due to its uniqueness and its quick run-time, 1960bet is not lacking behind in this department. They host a fair number of virtual games which are all fascinating to play. All the virtual games hosted on their website use Random Number Generators (RNG) to pick winners at all times.
The maximum earning you can get from any game is ₦10,000,000.00 for regular games
Betting Limits
1960bet also maintained the Nigerian betting industry limit for a bet (₦50.00) for all games. Unlike others, your withdrawal range is between ₦1,000-₦500,000 on a daily basis.
The maximum earning you can get from any game is ₦10,000,000.00 for regular games and ₦40,000,000.00 for a jackpot.
Recognizing that betting can be an addictive game, 1960bet in addition to creating awareness against addictive gambling also offers a self-exclusion service which allows punters who are becoming addictive to seek for help. For an exhaustive explanation of how self-exclusion works, click here to learn more.
Bonuses
Not only does 1960bet offers the best betting odds to Nigerian punters, they are also the only top betting firm that offers signup bonus to new punters upon making their first deposit. A 100% bonus of up to ₦50,000.00 is guaranteed for any prospective punter who uses the bonus code while registering.
In addition to the above, 1960bet also offers other promotional offers on an occasional basis to punters. Their official website is the best place to get the latest promotional offer.
Rules and Registration
To use any of the services of 1960bet website that requires the use of money, the punter must have attained the minimum legal age (18 years). While registering (this can be completed under two minutes), you are expected to fill the bio-data with accurate information that tallies with your ID card.
1960bet reserves the right to request for proof of age and means of Identification before your account is verified.
Finally, all users of 1960bet services are adjudged to have agreed to the T's and C's before placing stakes on their platform. At all times, punters are required to acquaint themselves with the terms and conditions of 1960Bet since any of its rules can be changed without prior notice.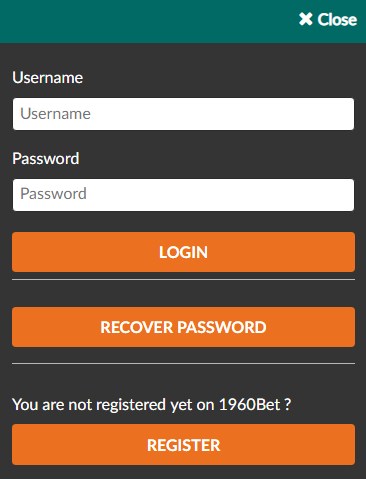 Deposit and Withdrawal features
In order to ease deposit ad withdrawal, 1960bet provides a range of options to choose from when making deposits. You can make a deposit through, Credit/Debit Cards issued by any Nigerian bank, QuickTeller online, 1960bet accredited agents, QuickTeller ATM or through bank deposits (Skye Bank, GT Bank, Stanbic and Firstbank).
However, withdrawals can only be paid into your accounts within 24 hours after initiating the process.
Customer support
1960Bet shares in the sentiment that customers are Kings. As a result, they have a team of highly qualified customer agents who are always on board to swiftly respond to your enquiry or complaint regarding your account or games offered. They can be contacted via any of the options provided.
Telephone: 07001960238
Email: support@1960bet.com
Or through the live chat option on 1960bet's website.