Merrybet is a licensed bookmaker that provides a large selection of sports, leagues, matches, virtual football, live bets as well as different bet types. Just like most online bookmaker website, you need to own a user account and make a deposit to place your bet.
To register on the Merrybet website, visit https://www.merrybet.com/ and click on the icon at the top right corner, select register, enter your personal information and click on 'sign up' at the bottom of the page. You will receive an email immediately with a verification link to activate your Merrybet account on the website.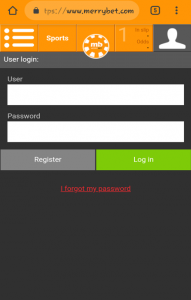 Now you can log in and fund your account by clicking on the deposit option on the homepage and you will find several payment methods you can use to deposit funds into your Merrybet account. After your deposit has been confirmed, you are set to start placing your bets by following these set of instructions:
Sign into your user account.

Select the sport you will like to bet on and select the country and league in which your game belongs.

After you have been presented with different events and odds, you can choose your odds.
Click on the green button on the top of the page to display your 'in slip' where all your odds have been added already and enter your stake(s). The minimum you can stake is N50.

Now click on 'place bet' at the bottom of the page to place your bet(s) and wait for the event to occur.
Once you place your bet it cannot be reserved.