Nigeria being one of the countries known for holding onto values for a very long time was not quick to legalize gambling of any form. Up till this present moment, some regions of the country still prohibit their residents from engaging in any form of gambling. This did not necessarily deter betting in Nigeria as we have found in the country's history that people have been betting on several activities since the colonial era.
Though the countries National Gambling board and the Lagos State Lottery board (LSLB) were established in 2005, lovers of sport had little to benefit from this legislation until Nairabet came on board as a Bookmaker in 2009.
It was founded by Akin Alabi (A politician and businessman) in a period when the Nigerian residents are highly sceptical of any online activity that involves the exchange of money. As a result, it struggled initially to convince lovers of sports betting of its intention to provide quality betting service that offers them the opportunity to make money while also supporting their favourite team (s).
This struggle to breakthrough did not last long as the Nigerian residents' love for sports and the desire to earn enormously while also having fun far outweighs their fear of losing money. Ever since this breakthrough, they have grown from being just the premier online betting firm to be one of the strongest, oldest and most reliable online betting firm with multiple gaming options to choose from.
Desktop & Mobile Betting
As a pioneer online betting firm in Nigeria, it uses the standard three column design common to most international betting firms.
This allows users to easily browse through catalogues of available games on the left side, view upcoming matches and live event in the middle and the bet slip on the right side. Despite offering several betting options, it was still able to perfectly fit all the information in a graphically appealing way on its homepage.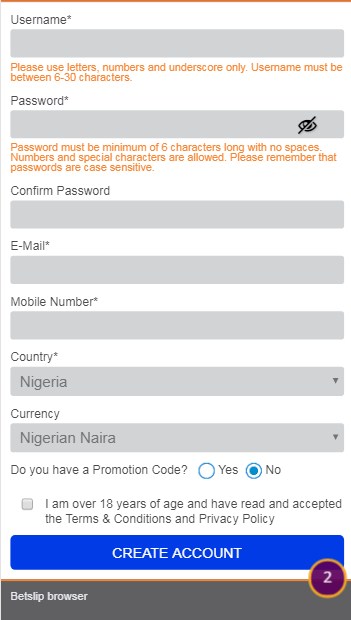 Knowing fully well that majority of Nigerians access the internet with their mobile phone, Nairabet opted for a highly responsive betting website to ensure that punters have a seamless surfing experience with their smartphones (iOS, Android and windows mobile) and desktop computer (Windows, Mac OS or Linux).
In summary, you are guaranteed of a seamless browsing experience regardless of the Internet-enabled device you are accessing Nairabet website with.
In a different way you will be giving the chance to cash-out at several stages towards the end of the game
Features & advantages
Online betting in Nigeria has not been a linear race for Nairabet betting website as they've had their fair share of competition from latter online betting firms. Nonetheless, they have been able to maintain relevance and stay at the top as a result of their ability to adapt and always give punters what they want.
Not only does placing a stake with Nairabet offers you the opportunity to choose from a wide range of activity ranging from Virtual sports, Casino, Live Event to all forms of Sports available, it also does so in a unique way by offering users highly competitive odds (which can be viewed in decimal, fractional or American format). On multiple occasions, it has been observed that they offer slightly higher odds than some well-established betting websites.
Although it is a customary rule among betting websites that once you lose a game in your slip, you forfeit your stake money, or get back your stake money at best when you lose just one game from an accumulated ticket containing a minimum of 12 games, the case is completely different when you place a bet with Nairabet under this condition. You could still win up to a maximum of 30% of your projected earnings if you lost just a game and met other betting conditions.
Another irresistible package available to punters who place bets on Nairabet is the ability to cash-out before a game ends. Whether or not the game is in your favour, you will be giving the chance to cash-out at several stages towards the end of the game (s).
Reliability
As stated earlier, Nairabet is a registered betting firm operating under the permission of the Lagos State Lottery Board (LSLB). The implication of this is that they must have passed through many security and feasibility test before they are granted an operating license.
Not that Nairabet intends to usurp punters money or refuse payment in the event that the punter wins, yet LSLB monitors their activities and that of all other betting firms on a consistent basis to make sure the right of punters are not trampled upon at any point in time.
Placing a stake with Nairabet does not only guarantees you high returns, you are also assured of protection against any form of a data breach as the team of engineers at their disposal work round the clock to ensure that the system gets the latest and the strongest form of security against any form of cyber-attack.
Betting options, in-play, live streaming
Being a Nigerian betting firm, Nairabet understands the place of European football in the hearts of many Nigerians. This made them show a lot of bias towards football betting which works in everyone's favour.
Sports: However, they are not a mono sports betting website. Punters can place stakes on any of the 24 listed sports activity which includes all the major sports played in every part of the globe and less popular sports like Darts, Snooker and Martial Arts.
In-Play: In as much as you can place stakes on a single game or multiple games as far as a month ahead, you can also place bets on games that are currently being played. Click on the "In-Play" option right on their home page to see a list of games to place a bet on.
Virtual Games: As a betting firm really interested in maximizing user experience, virtual games are also offered for football, basketball, horse racing and dog racing in High-Definitions. With a not too fast internet, you can still have a smooth game-play in any of the virtual games available.
Betting Limits
As a betting firm interested in making betting services available to all classes of people, with as little as ₦50.00 you could be on your way to earning millions of Naira.
Being a reputable betting firm, Nairabet also educates punters on a regular basis about the need to gamble responsibly and know when to call it a day especially when things are not going in the punter's way.
Double odds offer for punters placing a stake on any of Lucky 15, 31or 63 games
Bonuses and Promotions
Nairabet does not offer a sign-up bonus to punters but on a regular basis, it releases several worthy bonuses and promotional offers to new and existing customers.
For instance, you are guaranteed additional 10% of any amount you deposited which can be as high as ₦50,000.00 if you use any of the stated deposit options contained in the T's and C's as long as the deposit is made on a Monday between 9.00am and 9.00pm.
Another bonus offer worth mentioning is the double odds offer for punters placing a stake on any of Lucky 15, 31or 63 games.
Please note, the terms and conditions governing the promotional offers mentioned here are subject to changes without notice. For a comprehensive list, please click here.
Rules and Registration
It is a generic rule in Nigeria that all punters must have attained the minimum legal age of 18years before they can be allowed to place stakes in any online betting firm. Nairabet is a strong follower of this rule and they often take the extra step to confirm that new punters are legal gamblers by requesting for proof of age.
Among other generic rules, there is also a standing rule that deposits cannot be withdrawn. They can only be used for placing stakes.
By using the services of Nairabet and its affiliates, it is assumed that you have read and agreed to its terms and conditions. Therefore, you are urged to always check here for up to date information as they are subject to change without prior notice.
Deposit and Withdrawal features
As an indigenous firm, Nairabet uses the local currency for all of its transaction. You can make deposits via a USSD code, Quickteller, bank transfer, bank deposits, though a payment agent, or by using any of the cards (MasterCard, Visa or Verve card) issued by banks.
The minimum deposit via any of the above means is ₦1,000 while the maximum withdrawal on a single day is ₦5,000.00.
While deposits reflect almost immediately, withdrawals take a maximum of 24 hours before the process is completed.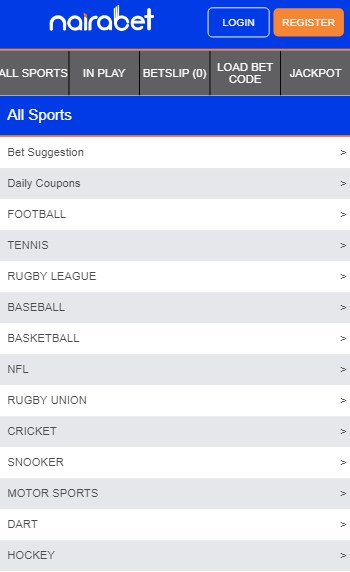 Customer support
Being an establishment of an astute businessman, Nairabet perfectly understands the importance of having happy customers. Due to this, their customer care centre is composed of a team of highly-qualified professionals who are always available to handle your complaints or enquiry.
The contacts are as follows:
Telephone: 070062472238 (0700NAIRABET)
Email: support@nairabet.com
Twitter: @nairabet
Facebook: @nairabetonline
Instagram: @officialnairabet