Winners Golden Bet is an online sports betting platform founded recently in 2013 with the aspiration to become one of the most reliable online betting platform in Nigeria and its neighbouring countries. Winners Golden Bets supports over 200 football leagues from every corner of the world. They also support bets on virtual games and other sports like Tennis Tournaments, Formula 1 racing, Basketball leagues, Rugby among several others.
Desktop & Mobile Betting
Through persistent revision and the desire to provide world-class services, Winners Golden Bet now has a website that can be rated world-class in terms of speed, efficiency and ease of access. It can be easily accessed through any internet-enabled device. Punters have access to over 200 different competitions which are played around the world to wager on.
As a prospective sport better, you can place a bet using your personal computer or smartphone device. If you are wagering using your personal computer, you should use this URL (www.winnersgoldenbet.com). Their website supports PC browser software with flash-player like; Chrome browser, Mozilla Firefox and the recent Microsoft Windows Explorer.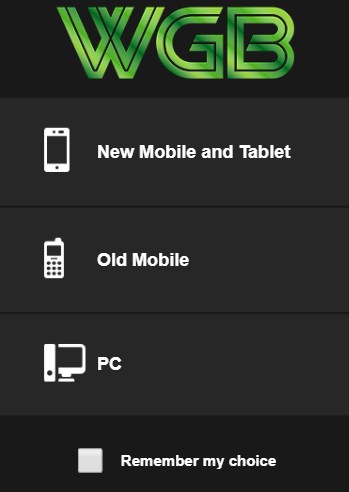 For smartphone users, Winners Golden Bet developed a world-class betting software on popular smartphones operating systems like; iOS, Android and Windows Mobile. The application software can be downloaded on the Winners Golden Bet homepage since Google does not host betting apps.
Features & advantages
With several varieties of sporting odds and events, Winners Golden bet enables customers to wager on any game (s) of their choice and earn bountifully. Punters can participate in Home/away win games in football and other games of their choice. They can also place multiple bets in order to multiply their earnings. Winners Golden Bet also offers live streaming and virtual game for punters to wager on and earn.
Reliability
Acquiring a betting license from the Lagos State Lottery Board (LSLB) is no joke. Series of feasibility and worthiness test are carried out by the regulating bodies before and after the issuance of a license. This alone should assure you that your money is safe and your earnings are guaranteed once you win.
Also, Winners Golden bet has thousands of customers all across Nigeria. For the fact that you can make withdrawals within 24hrs once you win a bet makes them one of the surest betting firm to partner with.
Betting options, in-play, live streaming
Winners Golden Bets offers several mind-blowing betting events ranging from the popular soccer bets to other games like Tennis, volleyball, hockey, Basketball, Cricket, among others. You can wager on any of these games in different forms like Virtual play, in-play live streaming, Multi Bets and the likes.
When placing multiple bets, one can combine a number of selections from different markets into one bet. For instance, you can select "Real Madrid to be the first team to score" + "Liverpool to draw their game" and "Arsenal to finish their game with 3:2 scoreline" in a single ticket. If all these selections turn out as predicted, you win in multiple folds. Note, if one selection does not manifest, you lose the entire bet.
The fact that a game has commenced does not necessarily deter you from placing a stake on that particular game. Up till the final moment, WGB offers you the opportunity to place bets with varying odds as the game progresses.
While it is almost impossible for you to run out of options with the plethora of options offered, Winners Golden Bet also offers virtual sports to spice things up for you. With High Definition quasi-real videos, satisfaction is guaranteed in any of the games (Horse racing, Dog racing or Basketball) you decided to play.
Maximum amount you can win in a game is 10,000,000NGN
Betting Limits
Winners Golden Bet sets limits for both deposits and withdrawals for different payment options. For those who are using the accredited betting outlets, the minimum deposit is 100NGN. 500NGN is the minimum deposit limit for those who are using the online betting platform. The maximum amount you can wager on a single game is 2,000NGN(Not Accumulator)
As for withdrawals, the maximum amount you can win in a game is 10,000,000NGN and the maximum amount you can withdraw at a time is restricted to 500,000 due to the Central Bank's policy. As for those who utilize the accredited betting outlets, you can cash out your winnings anytime at our official hour.
Bonuses
Unfortunately, Winners Golden Bets do not offer any sign-up bonus to their customers. However, at random periods of the year, they offer significant promotional offers to their agents and customers.
Rules and Registration
It is the industry standard that all prospective gamblers must have attained the minimum legal age (18 years) before they can be allowed to place stakes on Winners Golden Bet betting website. As an LSLB compliant betting firm, any punter who is not of age shall not be allowed to place stakes on this website.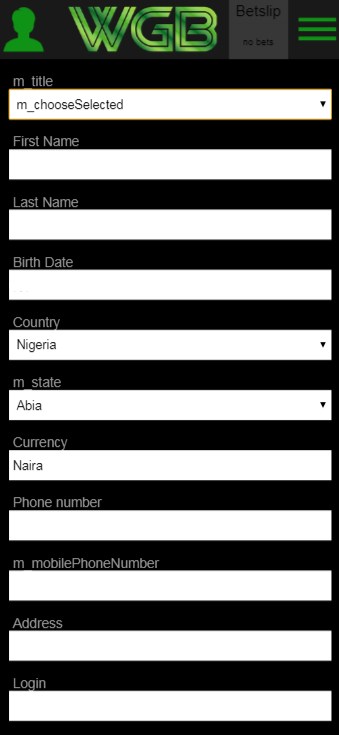 While signing up (this can be completed in a minute or two) as a prospective punter, the data provided must be the same with that contained on your ID card to avoid unnecessary friction in the verification process.
Below are some of the cogent rules you should take note of before placing a stake with WGB:
Winners Golden Bets can delay settlements of all bets till the official confirmation of results.
The maximum number of games on the accumulator ticket is 40
Punters are advised to keep all tickets safe as long as there is still a chance of winning. If one game on an accumulator ticket is lost, it will be assumed that the whole ticket is void.
You are adviced not to wager on behalf of a third party.
Only a single account is allocated for each individual. Any duplicate account observed will be suspended indefinitely.
Please note, all prospective and existing punters of WGB must have accepted the terms and conditions of this website before they can be allowed to place any bet. Therefore, punters are expected to acquaint themselves with the T's and C's at all times.
Deposit and Withdrawal features
The official currency of WGB is the (₦) Naira. This makes deposits and withdrawals a hassle-free operation. The payment gateways hosted (Paystack, interswitch and flutterwave) accepts all the bank-issued cards.
You can equally make deposits through any FCMB branch in Nigeria or via any of the accredited Winners Golden Bet payment agents.
Please note that the Name you used in registering on Winnersgoldenbet.com must correspond with the name on the Bank account you are transferring your money to.
Winners Golden Bet offers high-quality customer service support
Customer support
Winners Golden Bet offers high-quality customer service support. Their representatives are friendly and competent; they listen to your complaints and render solutions to your plights as quickly as possible. You can forward your complaints through:
Phone calls/WhatsApp: +2347087093729, +2348068497104 or +2349057028113
Facebook: facebook.com/winnersgoldenbet
Twitter: twitter.com/wgoldenbet
Email: support@winnersgoldenbet.com