Accountants understand their work while doing mathematics. They need to get familiar with the different accounting terms related. This also has to apply to anyone who wishes to be a lifetime or a seasonal punter. If you do not understand how to do it, then you will keep doing guesswork on your bet slips. There is always a way out to get wisdom and the skills needed to do the betting. That's why you are here, to get more information on how to place a bet.
What you need to understand, there are different types of bet that you can bet. For a newbie getting started with full-time bets where you predict the overall game to win, will be the best way to begin your journey. You may predict, either one of the games to win or the two games to go for a draw.
Here is an example of what should be done.
Choose the game you want to place your bet on Betway site. For this case, we shall pick soccer.

In the screenshot, you will notice I have chosen Qarabag to win (denoted 1X2). At the right corner, the bet slip adds up. If it is a single bet, click single bets.
Place the amount you want to stake.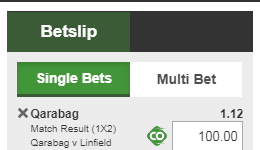 If you are certified, click bet now and the process is done.