Sometimes, going to an outlet to place bets may be uncomfortable, that is where online betting comes in handy, it is easier, faster and can be done on any device connected to the internet. One of the Nigerian bookmakers that allow you to easily place your bets online is NairaBET. To place your bets, you must have a user account and must have made a deposit. To know if you are logged into your NairaBET account, your homepage will show your customer ID number and a deposit button on the homepage instead of 'login' on the top right corner.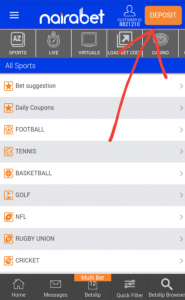 Once your account has been funded, you are ready to take the steps listed below:
Go to the Homepage and select from any of the games available. Actual Sports like Soccer, baseball. Tennis, volleyball etc. are available as well as virtual games like Casino, virtual football league, virtual dog racing etc.
Choose your preferred sports which you would like to place your bets.
Choose the country and the league of matches/games you would like to bet on. For example, to place your bets on games in the Championship or Premier League, you have to select England in the list of countries that will be provided.
The next page will show you the list of betting markets available, the list of games to be played in a given period (dates of each match also) as well as the odds on each match.

After choosing your preferred games and odds, it is time to enter your stakes in the box (or boxes if you are placing multiple bets) below the page you will see in the picture below.

Click on place 'bet(s)' also at the bottom of the page. If you would like to use a bet shop subsequently, click on 'get bet code' so as to generate a code you will use at the bet shop.